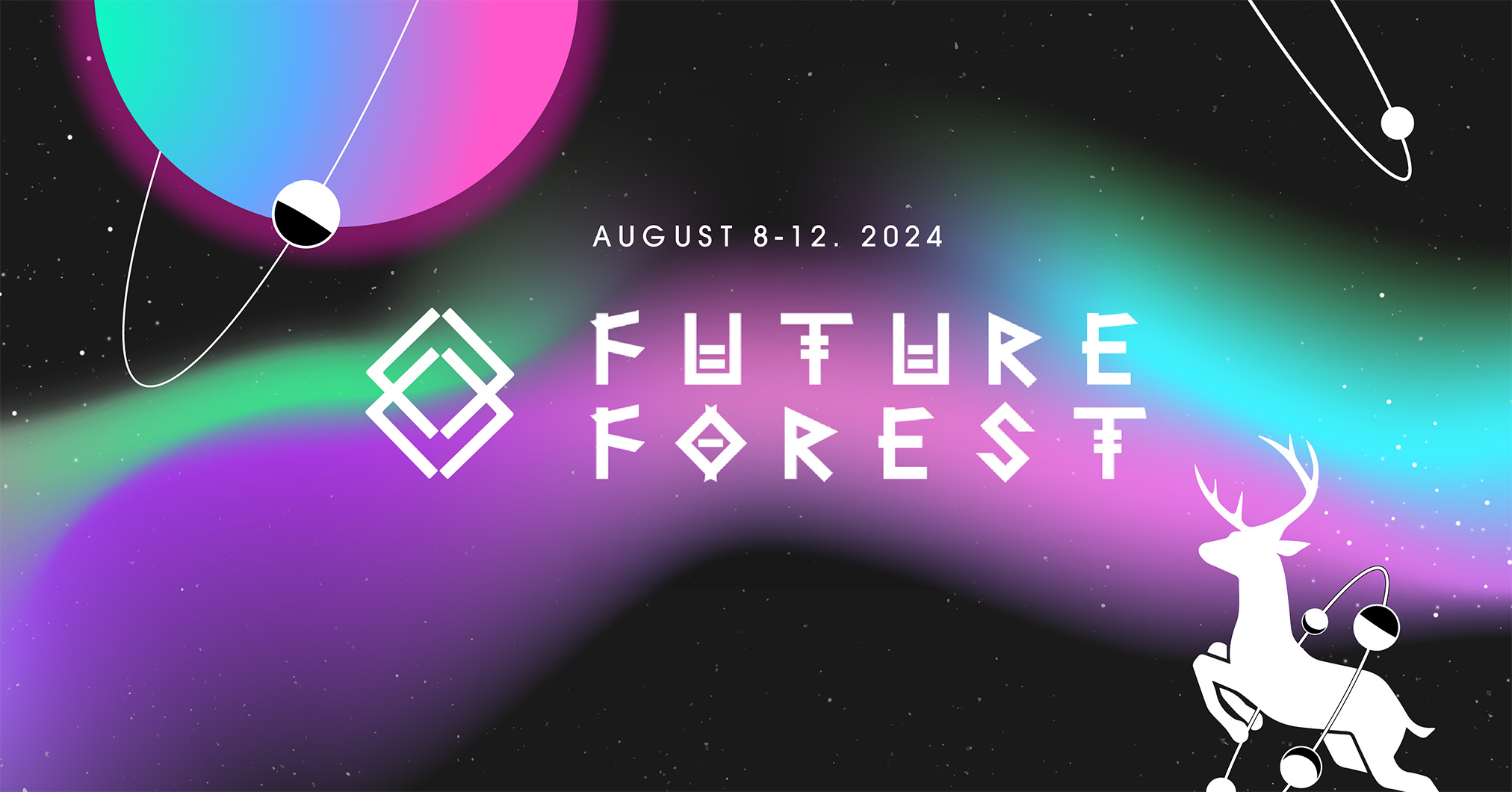 THE 10th ANNUAL FUTURE FOREST: AUGUST 8TH – 12TH, 2024
Our Future in the Forest
A movement is taking place in the middle of a vast natural wonderland. Now on its tenth edition, Future Forest is an art experience that immerses its participants in an alternative reality that encompasses the beauty of its natural surroundings with the latest sonic and visual technology advancements.
Featuring:
+ 200-acre location on an off-grid retreat
+ Three immersive stage environments inspired by nature
+ On the side of Little River
+ PK Sound
+ Void Acoustics
+ Over 20 International Music Headliners
+ More than 120 Musicians
+ Sensational Performing Arts
+ Stage Projection Arts
+ International & Local Visual Artists
+ Food vendors
+ Artisan Market
+ Yoga
+ Interactive Learning Workshops
+ Art Installations across the festival site
+ Hot Showers
+ Backwoods camping
+Reserved sites
Location: Near Fredericton, New Brunswick
18+
Future Forest acknowledges that it is on the traditional lands of the Wolastoqiyk people, on the side of the river named Nem-dit'qu in the Wolastoqey language.
Payment Plans available from Checkout by selecting FuturePay
All tickets are General Admission (GA), and grant one human access to Little River Retreat from 8 a.m. on Friday, August 9th to Monday, August 12th, 2024.
Includes backwoods camping (does not include tent)
18+ (ID is required at the gate)
Physical security tickets (can be resold but cannot be replaced if lost or stolen)
Limit to 5 per customer
Thursday Entry (August 8th) requires an additional entry ticket
Tickets are sold by phase with limited quantities in each. Each Phase provides the same ticket, once the lower priced phase sells out the next is sold
Thursday Entry Ticket for entry between 8 a.m. Thursday, August 8th, 2024, until 8 a.m. Friday, August 9th, 2024.
Thursday Entry requires a weekend GA ticket.
One Thursday entry per person attending.
Thursday Entry Tickets will cost $100 (including HST) at the event (pending availability). 
Advance purchase price $70
Parking Pass for one vehicle for Future Forest 2024 in Zone C (General parking)
Parking location determined by arrival time (with the closest sites filled first)
For one vehicle (if hauling a storage trailer, you must purchase two Zone C passes)
No RVs or Motorhomes are allowed in Zone C (you must purchase an RV site)
Van camping is allowed in Zone C (No tenting)
Zone C parking will cost $60 inc. HST at the gate
Parking is subject to a re-entry fee of $10 per vehicle if leaving the site
Our parking is limited; please carpool ♡
2024 Parking Changes:
Zone A park and camp will be removed to increase tenting space
A new drop-off location will be created close to Camping Gate
Improved shuttle services
Reserved Accessible Park and Camp (Must have accessible parking badge – email order@futureforest.ca)
Advance Price: Zone C $35
Reserved Trailer / RV / Campsites
Passes are required for any RVs or travel trailers brought to the festival site.
Sites are unserviced and do not include any entry tickets
Site prices are based on the length
Lower numbers are closer to the stages
Generators are allowed at reserved sites
Tenting on reserved sites is allowed
Parking is included (must fit on site; please refer to each site length)
Select which site you would like to reserve (see map)
Sites are priced according to size $200 to $300